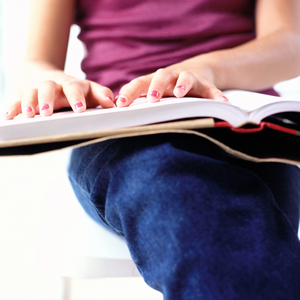 This initiative supports the use of high quality practices across the entire spectrum of children with deaf-blindness.  Please see below for strategies that enhance assessment, IEP development, and literacy instruction for children with combined hearing and vision loss.
Assessment 
Planning 
Instruction 
The National Center on Deaf-Blindness host a comprehensive library on selected topics such as Communication and Learning and Instruction.  Please contact Montana Deaf-Blind Project if you can't find what you're looking for, and we can help direct you to additional information and resources.   
Interveners and Ensuring Access
The National Center on Deaf-Blindness, through data collection activities, defines Interveners, as individuals who provide access to information and communication and facilitate the development of social and emotional well-being for children who are deaf-blind. In educational* environments, intervener services are provided by an individual, typically a paraeducator, who has received specialized training in deaf-blindness and the process of intervention. An intervener provides consistent one-to-one support to a student who is deaf-blind (age 3 through 21) throughout the instructional day.
Working under the guidance and direction of a student's classroom teacher or another individual responsible for ensuring the implementation of the student's IEP, an intervener's primary roles are to):
provide consistent access to instruction and environmental information that is usually gained by typical students through vision and hearing, but that is unavailable or incomplete to an individual who is deaf-blind;
provide access to and/or assist in the development and use of receptive and expressive communication skills;
facilitate the development and maintenance of trusting, interactive relationships that promote social and emotional well-being;
provide support to help a student form relationships with others and increase social connections and participation in activities.
Want to learn more? Below are additional NCDB resources on interveners